To become a keeper of something or a moment or a feeling..ect. send your
request to ME
and i will add you to the list which will be here.

Please include What you want to be keeper of, The name you want on the card, If you want a card please tell me that too, and if there is a certian Picture you would like please include that too.

Also you will get a cool card graphic like the one below to show what you are the keeper of if you would like one..you can use it in your posts on

message boards , your website..ect..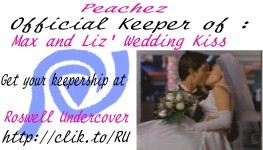 1. Peachez~keeper of Michael and Liz' Secret Love for each other

2.Kylie a.k.a. Liz ~ keeper of Max and Liz' Wedding Kiss

3.Roswellian ~ keeper of Liz and Future Max's Dance

4.Alie~ keeper of Max and Liz' I Love You's in the Van(Destiny)

5.Jade ~ keeper of Maria telling Michael to be quiet while she was assessing their relationship

6.Lia~ keeper of the strawberries from Sexual Healing

7.Sarah~ keeper of Michael and Maria's balance Kiss

8.Tabasco Liz~keeper of Max and Liz' Blind Date Kiss

9.Kailia~keeper of Michael and Maria's 2001 Prom Dance

10.Jessica~keeper of Max and Liz' first kiss from Sexual Healing