Owner : Grace

Reviewer : Heather

Review Date : 1/14/02

Layout at time of Review :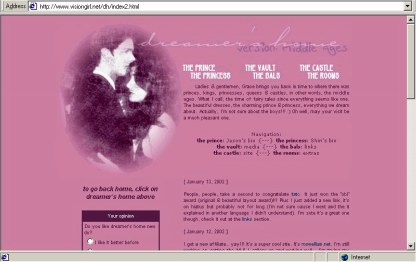 Review:

Splash : Awsome , everything you need to let ppl know is on there....

Points : 10/10

Layout : Very consistant: and it looks great!!! Love the M/L graphic

Points : 20/20

Content : You've got it covered :) Esp. for a couple site just keep on adding the extras to keep your visitors comming back

Points : 10/10

Graphics : The graphics of M/L are lovely...love the effects and the text really sets the mood for your middle ages theme.

Points : 10/10

Navagation : Just like It needs to be always in the same place where you can find it ... plus you have the part that explains what each section is and that's a plus too..

Points : 10/10

Originality : M/L site are all over, but you've got great content that's original and keeping you visitors comming back with interactive things to do and you've got that.

Points : 10/10

Loading Time : Awsome ... no waiting

Points : 10/10

Overall Impression : I love this site...you have all the basic Dreamer material plus loads more. Keep working at this Amazing site.

Points : 20/20

Total Score : 100/100