Owner: Donna

Reviewer: Heather

Review Date: 12.04.01

Layout at time of Review: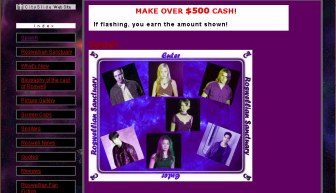 Review:

Splash: the graphic is good but does cityslide make you have all that extra stuff on the side?? cuz that doesnt look very good.

Points : 5/10

Layout: It's okay but it could use a little work..the background image needs to flow better....you know see if you can get it to not scroll with the page. with a little work it could be great.

Points : 5/10

Content: You do have loads of content and I love that and so do others!! kudos to you for all the stuff you have.

Points : 10/10

Graphics: Again you could use a little work on them and more of them..but hey that can improve with no problem.

Points : 8/10

Navagation: Always right there when you need it..

Points : 10/10

Originality: You have it. along with the basic things for a good roswell site you also have loads of good extras that are original..keep adding them though you can never have enough.

Points : 10/10

Loading Time: it was good except for the first time i went to the main page it took a little bit to load.

Points : 8/10

Overall Impression: It's good...with the content you have you could have a perfect site, just work on some things here and there and if you cant do what you want with it you may want to think about switching to a different host. but keep up the good work and keep improving on the site.

Points : 15/20

Total Score : 71/90