Owner: Malin

Reviewer: Heather

Review Date: 12.04.01

Layout at time of Review: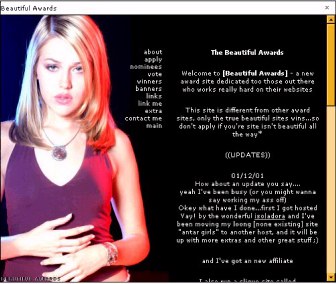 Review:

Splash: Nice and Simple..good splash image.

Points : 10/10

Layout: great..love the pop up java...

Points : 10/10

Content: Awards sites shouldn't really have all that much but you've got some great extras to keep ppl interested~ just keep adding to it and you got it down.

Points : 10/10

Graphics: Kudos on the graphics ria is perfect.

Points : 10/10

Navagation: Always right there when you need it...although back buttons in the extras section would help out alot..it's great

Points : 10/10

Originality: Basic awards site with all the basic content that you need but the extras really help you out in this dept.

Points : 10/10

Loading Time: Awsome

Points : 10/10

Overall Impression: It's awsome.....I love your site it is truly beautiful!! Keep up the great work.

Points : 20/20

Total Score : 90/90 Perfect Score