Owner: Stormy

Reviewer: Heather

Review Date: 12.04.01

Layout at time of Review: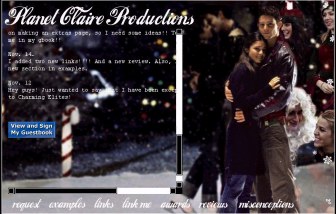 Review:

Splash: Lovely!! Love the christmas pics...and the graphics are great. you have everything you need here..no more no less

Points : 10/10

Layout: It's awsome..great frames and all again the graphics are great and the layout is consistant.

Points : 10/10

Content: For a graphics site you have got some extra content and that's great..although it wouldnt hurt to have a few more examples of your work up ,the content is great...just keep adding little extras to spice it up.

Points : 10/10

Graphics: I love them!!! The christmas theme is great but they are all put together nicely too. kudos.

Points : 10/10

Navagation: huh look at that its there at the same place all the time!! Love it!!

Points : 10/10

Originality: well there are alot of graphics sites out there (as i have one my self lol) but hey you have originial work here so that's what counts.

Points : 9/10

Loading Time: no waiting time..quick load

Points : 10/10

Overall Impression: You've got a great site. Just keep up your great work on the graphcis and adding little things here and there and you got an awsome site!!

Points : 20/20

Total Score : 89/90