Owner: trancegirl11
Reviewer: Phoenix
Review date: 10-15-01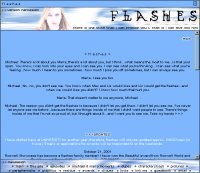 Splash: your splash is really, really neat. The colors and the graphic is really great and you've got all the things you need such as break-out line e.t.c. 10 points.
Layout: the layout is beautyful and matches the splash page really great. It's simple, yet stylish and pleasing to the eye. And you're also really good with frames.10 points
Content: Wow, I'm overwhelmed. There's so many roswell sites out there and they tend to be un-original, but you've got so much original and fun content. A section as "paraphernalia" is worth gold. Loads of content! Good job. 10 points.
Graphics: 10 points! Do I need to say more?
Navigation: It's okay, what can I say? No nitpics there. 10 points.
Originality: as I've already mentioned, your site is beyond original. There's enough to keep a visitor occupied and still come back for more. 10 points.
Loading time: just okay. Didn't take long time to load. I had to wait a minute or so, so that's really good. 10 points
Overall impression: I have to say, after going through your site I'm really impressed. You've got it all: good graphics, good content, good HTML...simply great! This is an outstanding roswell site! 20 points
[ Total points: 100/100 ]